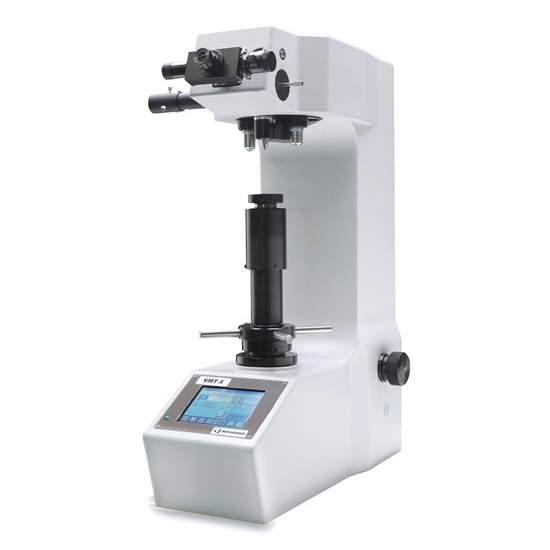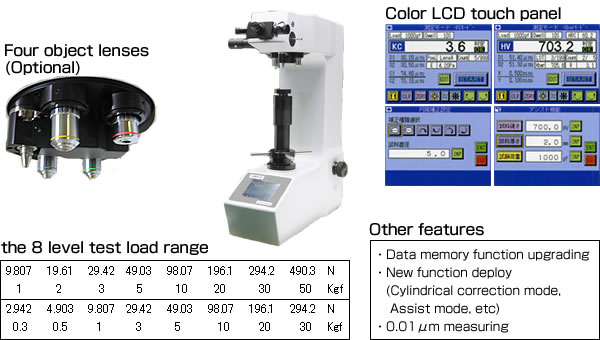 The new function deploy. Color LCD touch panel.(Correspondence model : VMT-X3, X7)

◾Visibility and operativity improve by color LCD touch panel.

◾Four kinds of new measuring mode deploy. (fracture toughness(KC) measuring mode, Light-load brinell mode, Xbar mode, Cylindrical correction mode)

◾The assist function which can identify the testing condition which is optimum is carried. The testing condition which is optimum can be confirmed by satisfying 2 from 3 condition of thickness, hardness, test load.

Four objective lenses (optional) (All model correspondence)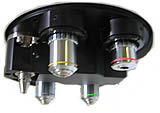 The new turret mechanism enables to observe wide specimen area with up to 4 objective lenses.
Placement of an indentation and its reading is more accurate and repeatable by choice of proper abjective.

The 8 level test load range (All model correspondence)

A standard load changing range is expanded from six phases to eight phases.
The new model can correspond to a wider measurement condition.

0.01μm measuring (correspondence model : VMT-X3, X7)
The new model realize 0.01 μm measurement at general magnification 200X - 1,000X.
the new model get possible to measure with accurate numerical value about a small indentation.

Data memory function upgrading
upgraded maximum data memory capacity from 256 to 999.
it expand the number of the data management only in the hardness-tester more.